The Haze MythWeb Skin
About the Haze Skin
Haze is a skin for MythWeb (version 0.20), the web frontend to the excellent MythTV open source PVR

It comes in two flavours (each actually a skin in its own right).


Haze Dark:

Haze Light:



The skin aims to provide a consistent Look and feel accross the MythWeb modules with a high gloss modern appearence and 3D icons.
For example a consistent set of module and weather icons: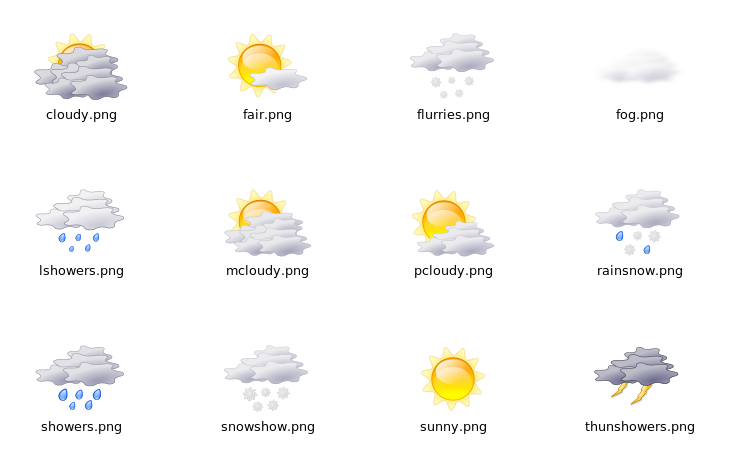 Installing The Haze Skins
Download one or both of the Haze skins:

Haze Dark (Last updated 12 Jun 2007)
Haze Light (Last updated 12 Jun 2007)

Then unpack the tarball to the skins directory in the location of your MythWeb installation (e.g. in Fedora /var/www/html/mythweb/skins) using:

tar xvjpf haze_dark.tar.bz2 -C /var/www/html/mythtv/skins
In MythWeb enter the settings module and then click on MythWeb session settings.
Change the MythWeb skin setting to Select glaze_light or glaze_dark and click save.
Credits
A number of icons are copied or devired from other icons available under open source licenses:
All SVG icons designed by myself were created in the highly recommended Inkscape software.
Image Source Files
The majority of the icons used in this theme are available as svg files here.
The exception to this is the settings icon and music icon. If anyone has the origional artwork for these icons in svg format please let me know!
Screenshots
Haze Dark
Haze Light
welcome
Program
Listing/
TV Guide
Statistics
Program
Listing
with
Legend
Upcoming
Recordings
Recorded
Programs